­FAQ­  – Practical information
Join A State-Approved University
From a formal point of view, the degrees of a public and a private university are usually equivalent – both of them enjoy a full state recognition. Before a university is recognized by the state, it has to fulfill the same quality criteria as a public university. Since the Bologna Reform, which mostly stands for the introduction of bachelor and master study programmes, private and public universities pass through the same process of accreditation that leads to recognition.
Prerequsites are same as Public University
There are no big differences in the prerequisites between public and private universities. Students are only approved if they fulfill the same conditions of enrollment required by public universities (university entrance certification).
The prerequisite for a bachelor programme at our university is the General Higher Education Entrance Qualification (Abitur). There are no numerus clauses at our university. Students can possibly study at our university without the Abitur, if they pass an assessment test.
The prerequisite for a master programme is a university's degree with a grade not worse than 2.0 or 2.5 – depending on the study programme. In Saxony-Anhalt, students with a professional qualification have no access so far to a Master programme without a formal first university's degree.
How old must I be to attend Friedensau Adventist University?
There is no age limit for joining Friedensau.
Are degrees from Friedensau state recognized?
All degree/study programs offered by FAU are recognized both by AQAS (the German Accrediting Agency of the German Government) and the AAA (Adventist Accrediting Association of the General Conference of Seventh-day Adventists).
Can I do a Ph.D. / Doctorate at Friedensau?
FAU does not offer doctoral studies. However, with a state accredited degree after completion, you can pursue a doctoral study at other institutions worldwide. The sky is your limit.
Is there any job-opportunity at FAU?
Job opportunities are possible both on campus and in the nearby senior citizen's home.
Contact:
Are there public transportation?
Students from Friedensau Adventist University get semester tickets which give them access to the entire public transportation network in Jerichower Land, to Magdeburg and in the City of Magdeburg.
How do I call in case of ermergency or fire?
For emergency calls, dial:
110 for the Police
112 for Emergency/Fire
+49 (0) 361 / 730 730 for toxin emergency
+49 (0) 361 / 116 116 for blocking your credit card
How do I call Friedensau from home?
Calling from Home to Friedensau?
Landlines in Friedensau:
If you or your family and friends want to call a landline in Friedensau, use the following system: +49 3921 916 xxx
+ 49 = Country code for Germany
3921= Area code (Möckern)
916 = Local code (Friedensau)
xxx = the extension of the phone number you want to call in Friedensau.
Please make sure you know the last three digits of the office or person you want to call.
Mobile phone calls all over Germany:
If you or your family and friends want to call a mobile phone number in Germany, use the following system:
+49 xxxx xxxxxxx à simply add the mobile number after the country code of Germany.
Regarding cell phones, there are many providers in Germany: eg. Vodafone, T-Mobile, e-plus and O2. As per geographic position, we advise our students to use T-Mobile or Lebara as they are prepaid and work well around the Campus. Contact the Service of International Students, (SIS) [link to be added] in order to find help in buying a prepaid SIM card or a Phone.
Can I bring and use my electronic devices from home?
Germany's electrical system runs on 220 Volts. Please make sure that the electric devices you bring with you work on 220 Volts and don't melt or explode upon high-voltage contact.
Please be careful and check whether your electronic devices, especially the adapter, can run on 220 Volts. If not, we advise you to buy a universal adapter or a converter for your current adapter.
In Germany, the plugs and sockets look like this: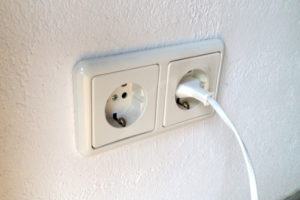 What to do if I want to see a doctor?
Students are informed about the procedure how to visit a doctor during the orientation meeting. Friedensau Adventist University has a group Service for International Students which provides international students with help regarding medical issues.
For more information you can join Facebook groups »SIS online« 
How do I apply to FAU?
You can get more information about how to apply for admission into the MAISS program from here or contact the admissions office: or
Is there any application deadline?
Yes. Please see our page on dates and deadlines.
How much time does it take to process my admission?
For visa students: you should start ca 5-6 months before the beginning of studies.
For non-visa students: 2 months before semester starts
How do I know that I have been admitted?
The Admissions office will send you a notice of admission as soon as your application accepted by the admission and financial committees. The admission letter (and other documents for the embassy) you will receive after the down payment and the deposit have been transferred to the University.
Whom should I contact about my admission process?
You should contact the Admissions Office through +49 (0) 3921 / 916 134 or
What do I do with the admission letter that I get from FAU?
You need this letter in order to apply for your student visa to Germany. Besides, you should travel with it since you will need them at the airport/port of entry or when applying for a visa extension.
First days in ­Friedensau­
Do I have to attend the orientation meeting?
Yes, it is mandatory and will be offered during the introduction week.
Do I need to do any legal formalities after arrival in Friedensau?
Yes! After entry immediately report to the registration authority and foreigners authority. See our page on Visa Procedures.
How do I get a german health insurance?
See our page on Health Insurance
How do I open a bank account, get a SIM-card and internet access?
After you have obtained your student visa, you can easily open a bank account with any bank in the nearby city of Burg. You can also buy a SIM card from any supermarket in the nearby cities, although sometimes having a little knowledge of German helps in these transactions. Students can contact SIS (Service for International Students) for assistance.
There is both wired and WIFI Internet connectivity on campus. The IT department can help you to get internet access.
Can I study part-time?
The MAISS study program is a full-time program comprising 4-semesters.
Which language will I use in my studies at FAU?
Depending on your program of study, you can use either German or English. Friedensau offers all its undergraduate programs in German. Graduate programs are also in German except the Master of Theological Studies and the Masters of Art in International Social Sciences which are fully taught in English.
What is the average enrollment at FAU?
There is no limit to the number of students the university admits at the moment. Nevertheless, the university always seeks to admit students based on established evaluation of all prospective students.
When will I have breaks and vacations?
Semester breaks:
middle of February to Middle of March
beginning of July to end of September
Christmas vacation
Are there internship opportunities?
Practical experience is an integral part of all study programmes in Friedensau. See more information on internships here>>
Do I need to speak german if I study in english?
German knowledge is not required for study programmes that are taught in English. However, we strongly encourage our applicants to learn some German.
Can I transfer credits from another university to FAU and vice versa?
Please contact the admissions office directly.
Is there any application fee?
Friedensau Adventist University does not charge an application fee.
Are there any financial support for international students?
Yes, there are a number financial supports for international students in Friedensau. Please visit our page on Scholarship/Funding Opportunities for more information.
Work outside of campus?
There are possibilities for students to find jobs outside Friedensau Campus. Students can find jobs in nearby towns and cities and even big cities like Berlin. It is however not the responsibility of the University to find jobs for students outside the campus.
Why do we have to pay the down payment and the deposit and when?
Down payments and deposits serve as a bond between the student and the university.
The down payment is credited in full to the student's tuition account and is only a partial payment for fees.
Deposits are held in a separate account and will be returned to a student upon leaving if all accounts are clear.
Down payment and deposit are paid before the start of the study programme.
­Visa­ Procedures
A visa authorizes you to enter — but not to remain in — Germany. Visas have an expiration date and may be valid for different time periods and purposes (pleasure, business, study).
International students who want to enroll at a German university may only do so with a Student Visa. You must apply for a visa in your home country at the German Embassy or Consulate nearest you. The information we provide you here is to guide you through the steps in applying for a visa from your home country and what to do when you arrive in Germany.
General information
In general, the following documents must be submitted along with a visa application form (for further information please inquire at the German embassy in your home country)
Notification of admission to study at the Friedensau Adventist University
Proof of sufficient financial means to cover living expenses for the duration of at least the first academic year. Usually, after paying the down payment and deposit to the Friedensau Adventist University (including satisfying the University with your financial means), the admissions office of the University will send you a document for the embassy.
Copy of a higher education entrance qualification
Health certificate, if necessary
The submission of additional documents may be necessary depending on your country of origin
Biometric passport photos. (For further information about the format of the biometric passport photo, please click here.)
Processing a visa application usually takes up to 6-8 weeks or more. Please check in advance how much time you need in order to receive an appointment at the respective embassy. Please apply as early as possible! It is your responsibility to apply for a visa on time so that you can arrive on time in Friedensau to begin your studies on time.
Please note!!! Never travel to Germany on a tourist visa because a tourist visa cannot be converted into a student visa.
Entry formalities and VISA regulations
It can often take several months before a visa is issued. So you should apply for the visa in good time. If you enter Germany late, you may possibly miss a number of important dates or deadlines and so jeopardize your university registration or matriculation. However, if you have not registered at your university, you cannot get a "residence permit for the purpose of studying" (Aufenthaltserlaubnis für Studienzwecke). When applying for your visa you should also make absolutely sure that you are applying for the right visa. A "tourist visa" or "language course visa" cannot be subsequently changed into a "student visa". If you have the wrong visa, you will, unfortunately, have to leave the country again. Please also take care to ensure that your passport is still valid. If your identity documents have expired, you will have to travel back to your home country to have them extended there.
After entry immediately report to the registration authority and foreigners authority:
After arriving in Germany, you have to go straight to the registration authority (Einwohnermeldeamt) to give them your address in Germany and then to the immigration authority (Ausländerbehörde) in order to apply for "residence permit for the purpose of studying". The residence permit is initially valid for a maximum of two years and costs 110,- Euros. If your international degree programme is scheduled to last three years, you will have to have your residence permit extended before the two years are over. To get the extension you have to prove that you are progressing in your studies as expected – i.e. that you have gained all the required credits and passed all the required exams. The immigration authority in Burg, where Friedensau students have to apply for a visa or a residence permit, requires applying for an extension 6 weeks before your visa expires.
Please take the following documents with you to the immigration authority:
Your confirmation of residence registration issued by the registration authority
Proof that you have private or statutory health insurance
Student ID-card from your university
Proof of sufficient financial resources – if not already verified when the visa was issued
Valid passport (at least 6 months after your arrival in Germany)
Money to pay the residence permit fee (110 Euros for each family member depending on the duration of the residence permit).
Electronic residence permit (eAT)
From September 1, 2011, German residence permits are no longer put in passports in the form of a "sticker". According to the Bundesamt für Migration und Flüchtlinge these adhesive labels "will be replaced by an eAT in credit card format. Each family member needs to have his or her own eAT. The eAT contains a contactless chip carrying personal data, biometric characteristic (photo and fingerprints) and additional special conditions. The chip contains electronic proof of identity and offers an electronic signature function. Important: The eAT is valid only as long as the holder is in possession of a valid passport. Therefore please ensure that your passport is valid for at least for 2 years if you come to Germany for studies or for 1 year if you come to take a German course only.
Detailed information about the eAT you can find here.
All about residence legislation
Whether or not you need a visa and a residence permit for entry to Germany depends on your nationality and on the purpose of your stay. Please contact the relevant German mission abroad (the addresses of the embassies and consulates can be found on the website of the German Federal Foreign Office) to find out whether you need a visa. The staff will also tell you which papers and documents you need for the visa application and whether you possibly need a residence permit. The following provides an overview of some key facts to give you an initial idea of how it all works
Visas not required for nationals of these countries
Nationals of EU and EEA countries (Iceland, Liechtenstein, Norway):
Residence permit: Not required
Identity Documents: Valid passport or ID-card
Obligations on arrival: You must report to the registration authority (Einwohnermeldeamt or Bürgeramt) within the first two weeks. The registration office will automatically issue a certificate confirming that you hold a residence permit for the purpose of studying. For this, you must prove that you have health insurance and are able to finance your studies from your own resources.
Nationals of Australia, Canada, Israel, Japan, Republic of Korea (South Korea), New Zealand, Switzerland and the United States:
Residence permit: you do not need an entry visa for Germany. After your arrival in Germany, you need to apply for a residence permit at the immigration office.
Identity Documents: Valid passport
Obligations on arrival: You must report to the registration office (Einwohnermeldeamt or Bürgeramt) within the first two weeks. You must apply for a "residence permit for the purpose of studying" from the relevant immigration authority within three months of arrival
Nationals of Andorra, Honduras, Monaco, San Marino:
Entry Visa: Only required if you want to work in Germany before or after your studies.
Residence permit: If you do need a residence permit, you can apply for this after arriving in Germany.
Identity Documents: Valid passport
Obligations on arrival: You must report to the registration authority (Einwohnermeldeamt or Bürgeramt) within the first two weeks. You must apply for a "residence permit for the purpose of studying" from the relevant immigration authority within three months of arrival in Germany.
Visa obligation
International students from a third country must – with a few exceptions – obtain a visa for entry into Germany. They can get this visa from the relevant German mission abroad. Basically, the process differentiates between two types of visas.
The Schengen Visa is issued for a short stay (for example, tourism, participation in a summer language course) of up to three months per half-yearly period. Beware: Holders of a Schengen Visa must leave the country again after three months at the latest. This means the Schengen Visa is not a suitable instrument if you wish to study, do a doctorate or complete a research stay in Germany.
A national Visa is issued for stays lasting longer than three months (for example, to attend a preparatory course at a Studienkolleg or to study a full programme).
Student applicants who have not yet been admitted to a German university or Studienkolleg can apply for a Student Applicant Visa. It is valid for three months and can be converted into a residence permit for the purpose of studying once you have been admitted to a higher education institution. Another type of visa is the Language Course Visa. But beware: This is only valid for the length of the language course. It cannot be converted into a student visa. If you plan to take a language course in connection with your academic studies, this must be stated when you apply for your visa. You have to apply for a student visa or a student applicant visa if the purpose of your stay is to study in Germany.
Visas are required of nationals from these countries who plan to stay for more than three months.
Argentina, Bolivia, Brazil, Brunei, Bulgaria, Chile, Costa Rica, Croatia, El Salvador, Guatemala, Malaysia, Mexico, Nicaragua, Panama, Paraguay, Romania, Singapore, Uruguay, Vatican City and Venezuela:
Entry Visa: A visa is not required for stays lasting any longer than three months. However, you must leave the country again after the three months have expired. If you are planning a longer study stay or intend to take up a job that requires approval by the Federal Employment Agency, then you need a national visa for entry into Germany and a "residence permit for the purpose of studying" for the stay.
Identity Documents: Valid passport (and for longer stays a visa entered into your passport)
FAQ – Can you stay in Germany after graduating?
A new Immigration Act, which has been in force in Germany since 1 January 2005, aims to enable highly-qualified people from abroad to enter the German employment market more easily and to offer them long-term prospects. For international students who have completed their studies in Germany, i.e. graduated, the act states: after completing your studies, you can extend your stay and spend up to one year looking for a job in Germany that is appropriate to your qualifications. Highly qualified foreigners, who have a job offer in Germany, can receive a (permanent) settlement permit without the need for any labour market checks or the approval of the Federal Employment Agency.
­Health­ insurance
Health insurance in Germany is obligatory for all foreign students!
The costs of the student's health insurance are not included in the fees that students pay for their studies in Friedensau University. Every student is required to have recognized health insurance coverage at all times. Insurance fees and medical expenses are solely the student's responsibility. A valid health insurance policy on the basis of the legal requirements is a mandatory prerequisite for registration and must be maintained throughout the period of registration, irrespective of the student's place of residence.
Health insurance in Germany
According to the student contract § III.3 (f) and the German law, every student has to provide evidence of a valid health insurance. Friedensau Adventist University has prepared the following information regarding the health insurance in Germany.
In Germany, there is a compulsory health insurance for students by a statutory health insurance company. This means that as you proceed through your studies you must continue to pay health insurance contributions. Proof of health insurance is also absolutely essential for extending your residence permit/student visa. If you don't have a health insurance policy, you cannot register (matriculate) at any university in Germany. So please do not forget to take out health insurance as soon as you arrive. The admissions office of our university will help you in this matter.
Private or statutory (public) insurance?
You can choose between private and statutory (public) health insurance carriers and companies in Germany. Up until you turn 30 years of age (or up to the 14th full study semester) you must essentially be insured by a statutory health insurance carrier. Only in exceptions will you be allowed to take out private insurance.
Most students are insured with a statutory health insurance carrier in any case, since these generally cover more medical risks than private health insurance companies. At present, the monthly statutory health insurance contributions for students under 30 years of age amount to around 92 euros per months (student rate), for students older than 30 around 166 euros per month (volunteer rate). Spouses and children of the insured person are also covered by statutory insurance without paying more, if they have no personal (or only little) income. If you decide to take out a private health insurance policy you will pay, for example, by Mawista 37.20 euros per month during the first year, and from the second year, 60.80 euros per month (accident and liability insurance included). Students over 40 years of age pay 74.90 euros (first year) / 119.00 euros (from the second year on) monthly. Every family member (a spouse and children) has to pay his/her own insurance contribution in a private company. Private insurance companies, including Mawista, do not cover expenses caused by treatment of chronic diseases which the students had before they came to Germany. For treatment of these diseases the students have to pay privately. Please also note that if you choose a private health insurance carrier you cannot switch to a statutory company any more. You will have to stay with a private company until the end of your studies (exception: students of preparatory courses such as a German course).
Students of preparatory courses such as a German course can be insured only by a private company, when they pass to a regular study program they may switch to a statutory health insurance company.
Who needs what kinds of insurance coverage?
In principle, the following applies: To study in Germany, you must, up until you turn 30 years of age (or up to your 14th semester), be insured with a statutory health insurance carrier in Germany. Most of these insurance funds offer favourable student rates.
Exception – exceeded the age limit of 30 years: If you are more than 30 years old (or have completed the 14th academic semester), you can no longer make use of the favourable student rates offered by the statutory health insurance carriers. You then have two options: firstly, to take out voluntary health insurance coverage with a statutory health insurance carrier (which costs ca. 170 euros per month) or, secondly, take out a private health insurance policy (which costs for example ca. 60 euros per month for students under 40 by Mawista-carrier). Please also note that private insurance companies cover fewer medical risks than statutory insurance companies. For example, if you had a chronic disease before coming to Germany it will not be covered by a private company. Private insurance companies do not cover preventive examinations, routine checks and similar. Therefore we strongly advise our students who are older than 30 and have chronic diseases to take out a voluntary health insurance policy with a statutory health insurance carrier even though it costs more.
Exception – Social Security Agreements: Social Security Agreements have been signed with some countries (including the member states of the EU and the EEA). In such cases, you may, under certain circumstances remain insured via the health insurance in your country of origin. To do this, you have to present a number of documents in Germany. In most cases, EU nationals have to present a European Health Insurance Card or form E 128 /E 111. Before departing for Germany, please make sure that you find out which papers you have to present. Please also check in advance with your home insurer what benefits it will pay in Germany. Foreign insurance funds or companies do not always cover all the costs that occur here. If this is the case, you may end up having to pay any additional costs yourself.
Exception – if you are privately insured in your home country: In some cases, private health insurance policies from other countries will be recognized in Germany. If this is the case, you need a letter of confirmation that you are exempted from compulsory insurance in the statutory health insurance fund – you must present this letter when you register (matriculate) at your university. Please note, however, that privately-insured people must first pay all the costs of medical services and medication themselves in Germany and then claim these costs back from the health insurance company in their country of origin.
Additional information regarding the health insurance in Germany can be found here.
All about patient rights
The following tells you what rights and obligations you have towards doctors and your health insurance carrier.
Best to find out about health insurance benefits and payments in advance
Even though you are a member of a health insurance fund, that does not mean that the fund is responsible for all the costs that arise in respect to your health or medical care. So please check in advance to find out from your health insurance carrier what benefits and payments you can claim for. The statutory and private insurance companies pay part of the costs for medical and dental treatment, for medication (drugs and medicines), for medical adjuvants and aids, for stays in hospital (in-patient treatment), for treatment by therapists (such as physiotherapy) or rehabilitation measures. Depending on the health insurance carrier you have, the benefits and payments that you are entitled to, can vary considerably. Often, patients have to pay a personal excess (contribution). In addition, there are adjuvants, aids, and forms of treatment that patients have to pay completely themselves. Depending on the financial situation, patients can be exempted from having to pay the personal excess. You have to apply to your health insurance carrier for such exemption.
Always carry your health insurance card (or policy) with you
The health insurance card (Versichertenkarte) is your "entrance ticket" to all medical services and preventative measures covered by your health insurance. You get the card as soon as you become a member of a health insurance fund. Every time you go to the doctor, you have to present your health insurance card. The health care provider will then settle the payments directly with the statutory health insurance carrier (does not apply to private health insurance companies). As a rule, you have nothing to do with this settlement of costs.
Free choice of doctor and hospital
As a rule, you are free in Germany to choose which doctor and which hospital you go to. Exception: If you are a member of a statutory health insurance fund, your doctor must be registered with the panel of the German health insurance scheme. If he is not registered as a panel doctor, you will have to pay the costs of treatment yourself.
So when choosing your doctor, please also check the medical specialty and main treatment areas. There are general practitioners (Allgemeinmediziner) or (Hausärzte) in Germany. Normally, you go to these doctors with everyday illnesses (such as a cold or upset stomach) or if your illness is unclear. In such cases, the general practitioner will mostly refer the patient for further diagnosis and treatment to a specialist (such as an internist, an ophthalmologist, an orthopaedist or a gynecologist). But you can also go directly to a specialist without such a referral. All panel doctors settle their payments directly with your health insurance fund.
Hospital treatment
There are state, charitable, denominational, and private hospitals in Germany. As a rule, you are admitted to a hospital by a doctor. But, essentially, you have the right to choose your hospital yourself. If necessary, all insured persons have the right to in-patient hospital treatment. Such a hospital stay may be required, for example, when other forms of treatment are not satisfactory.
The health insurance pays for items required for medical treatment in hospital, such as consultation by a doctor, nursing care, provision of medication, remedies, aids and adjuvants, accommodation and meals. However; during the first 28 days, you have to pay a small day-rate as a contribution to the costs.
Many medicines and drugs only available by prescription
You can obtain medication (medicines and drugs) from pharmacies (Apotheken) and increasingly, online too. However, a differentiation is made between non-prescription drugs and prescription drugs (i.e. where you need a prescription issued by a doctor). The statutory health insurance funds only pay for prescription drugs. However, patients have to pay a small excess (a set personal contribution).
Please note that the German Drugs Act is very strict. Some of the drugs that are prescription-free in your country (for example, antibiotics) have to be prescribed by a doctor here.
The insurance has to be commenced on the day of arrival. Insurance can be started at the beginning of the month and will be valid for 30 respectively 31 days (Example: start 1st January, end 31st of the respective month for which premiums were paid). We cannot accept payments for daily or
weekly insurance periods. If possible the total insurance premium should be paid for the whole period of your stay. We would kindly ask you to pay in monthly installments if you are staying for a prolonged period.
Social and religious ­life­
Where do I find information on what is happening on campus?
Upcoming events are communicated to students through different ways:
their university e-mail addresses
their mailboxes
the notice boards
during »Meeting Under the Word«
during worship services
What are some of the social activities on campus?
These are public spaces on campus where you can meet friendly people, enjoy non-alcoholic drinks, eat snacks, play games,  listen to music, watch TV and movies, enjoy parties and more.
What sports can I play at Friedensau?
In the gymnasium, you can play badminton, volleyball, ping pong, handball, basketball and indoor soccer. In the park, you can play chess, tennis and table tennis. Access to the gymnasium is free of charge.
In case you are interested in bodybuilding, you can have access to the fitness studio after paying a small fee.
Please contact: 
Is there worship service at FAU?
Spiritual life is very important to Friedensau community. Worship services are available and both students and personnel are encouraged to attend. Click here to learn more.
Should I belong to a church?
No, people with totally different world views are studying at Friedensau Adventist University: Christians, Buddhists, Muslims, atheists.
As an Adventist institution, we demand respect for other religions, ideologies, and cultures. We are convinced that faith, education, and lifestyle belong together and we strive to reflect a spirituality in the daily life of the university that is founded on the Gospel.
When is the best time to join FAU?
The best time is the winter semester.
How do I reach Friedensau from Berlin?
FAU offers 2 appointments for a pickup service in Berlin (any airport or train station in Berlin only): normally on Friday and Sunday, one week before the semester starts. Students who chose other days for arrival will receive a detailed information how to reach Friedensau with the public transportation. Before you book your flight ticket you need to contact the admissions office.
When should I be at Friedensau?
Approx. 10 days before the official start of the semester. International students will be offered an introduction week (one week Mo- Fr before the semester starts) which is mandatory. During this week the admissions office helps international students with all legal formalities (such as visa application, residence registration, bank, etc. plus some other activities such as introduction meeting, intercultural training, etc).
Whom should I see first once I arrive at FAU?
As soon as you arrive Friedensau, the first person to get in touch with the Dean of Students, Jens Schwenger (+49-3921-916-140), for your room and then see Irina Heinz (+49-3921-916-134), the Admissions Officer, for other student matters.
Do I have to live in the halls of residences or can I live off-campus
You are free to live either on campus or off campus.
Is there apartment for couples and/or families?
Yes, Friedensau provides apartments for married couples. You are advised to apply in advance since they are limited. For further information, contact Jens Schwenger:
Can I have a private room?
Our Residence halls provide both double and single rooms. However, single rooms are limited. The Dean of Students will take care of your application.
What furniture will I have in my room?
In your room, you will find the following furniture: a bed, a chair, a study desk, a mirror, cupboards, drawers, and bookshelves. In addition, you will also get one bed cover, blanket, pilot, and bed sheet.
How can I connect my computer in the halls of residence/apartment?
The university provides students with Internet access. Usually it is over a CAT6 network tool box provided in your rooms / apartments. To connect your laptop to this socket, you need a suitable LAN cable (CAT6 or CAT7 - EIA / TIA 568B). The cable should not be longer than 2-5 meters. If your computer does not provide a connection for such a LAN cable, it should be able to connect an Ethernet LAN adapter via USB. The university cannot provide such adapters. Please only buy LAN cables according to the AT&T standard EIA / TIA 568B. Other cables do not work in Europe.
Can I use electrical equipment?
The power supply is 240 volts, 50 hertz (check). Appliances of lower than 2 kilowatts may be used. Power restrictions are to be respected. In Germany Type C (Euro plug) and Type F (Schuko) plugs are used.
Where can I get food on campus?
University Cafeteria
The university cafeteria offers three meals every day. The timetable is as follow:
Breakfast: 07:00-08:00
Lunch: 12:15-13:30
Supper: 17:30-18:45
This schedule changes slightly on weekends and breaks.
You can pay with cash or transponder.
Laden Cafe
There is also a small cafe/shop on campus. Laden Cafe
Library
FAU students enjoy doing research in a modern library which offers probably more than you can have time to read. The Library presently comprises of 330 periodicals as well as some 90,000 books, audiovisual material and approximately 15,000 sheet music items. There are about 330 periodicals stored in hard copy as well as 4,500 online periodicals that are accessible to students on campus. (http://search.epnet.com).
Searching the collection
The complete library collection is categorized in an electronic catalogue (OPAC) and can be accessed from the numerous PCs located in the library. View the online database.
Loans
For students and faculty members, all material is freely accessible and most is available for loan (except periodicals). Loans are free of charge.The loan period is four weeks. A maximum of two loan extensions per item is possible. In the event that deadlines are changed, notice will be posted. However, a fine is charged for any overdue book.
Inter-Library Loans
Items that are not in the library collection can be requested online from our partner libraries as an inter-library loan or document delivery at http://www.gbv.de.
Requests incur a cost of € 1.50 per item.
The library orders and items are delivered to an Ariel document delivery station, with online documents being sent online.
Internet
The library has computers with internet access and more than 100 CD-ROM databases for research purposes.
All PCs are connected to a printer allowing for the printing of search results. The digital library also contains online encyclopedias and standard works, in addition to full text documents.
For more information about the library, http://bibliothek.thh-friedensau.de
Children's Library
The library offers a special reading area for children.
Kindergarten
For students who have children, there is a kindergarten on campus. Children can be registered and they attend either 5 hours or 8 hours or 10 hours every day. The fees are € 110, € 135, and € 150/month, respectively. In addition, you have to pay € 1,70 per day for food and € 0,15 for beverage per day.The kindergarten functions through the whole year and it has only a three week holiday in summer.
Historical Archive
The Historical Archive of the Seventh-day Adventist Church in Europe is located at Friedensau Adventist University. This provides to students and faculty a broad range of historical information, including some data that you will hardly find anywhere else in the world.
Internet access
Every student at FAU enjoys a 24/7 internet access. Students living on campus have internet access from their rooms in their different residence halls. Besides, both on-campus and off-campus students have access to the internet through several computers located in the University library building.
Gymnasium
Faithful to its holistic approach to education, FAU provides a gymnasium for physical exercises. Access is free of charge for students. In addition, students can voluntarily and are encouraged to register in different sport clubs such as volleyball club, basketball club, etc.
Fitness studio
In case you are interested in body building, the fitness room is a place for you. You can have access to it provided that you pay a small fee. Please, contact Ralf Spiegler ()
Football field
For everyone who enjoys football, Friedensau offers a football field. You can sign up for use. There are possibilities to play outdoor and indoor football during summer and winter seasons respectively.
Sauna
The University has its own sauna facility which is easily accessible to all students.
Sport clubs
Students are free to join sport clubs such as basketball club, badminton, and volleyball club.
Student common rooms
These are public spaces on campus where you can meet friendly people, enjoy non-alcoholic drinks, eat snacks, play games,  listen to music, watch TV and movies, enjoy parties and more.
How is the weather in Germany?
Like most European countries, German is a green country. Although the weather changes frequently, the temperature is generally between 7º C and -10º C during winter and between 30º C and 13º C during the summer semester.
Some important websites?!
These are all very good sources to cross-check and gather additional information with regard to almost every aspect of living and studying in Germany (in English and other languages). We encourage you to check them out!
Studying in Germany
Life in Germany
Scholarship / Funding ­Opportunities­
Each student is responsible for financing their own studies. Good planning is, therefore, necessary. The Admissions office or the Chancellor's office is happy to support you with this planning. It should not be forgotten that, in addition to the university fees and charges, the costs of health insurance are incurred and the costs of personal requirements must be covered.
If a student does not have sufficient means to finance his/her own studies, the following options are available:
Working during the course
Students – including non-EU foreigners – can generally work in Germany during the semester and in the lecture-free period to the extent usual for students. In accordance with the statutory regulations, students may work for no more than 19.5 hours per week during the lecture period. Friedensau Adventist University and the retirement home located on the campus provide jobs for students to a limited extent.
Deutschland-Stipendium
The selection committee awards students of Friedensau Adventist University with outstanding academic achievements the DeutschlandSTIPENDIUM from funds of the state and the Friends of Friedensau International (FFF). Annually, one to three students are awarded € 300.00 of funding per month. You can find general information on the DeutschlandSTIPENDIUM at http://www.deutschlandstipendium.de/
DAAD Scholarship
ADRA Grant
The ADRA Foundation awards grants for the financing of tuition fees of a different amount every year to students on the International Social Sciences degree program. The Dean's Office of the Faculty of Social Sciences is responsible for information and for applications for the ADRA grant at Friedensau Adventist University.
BAFÖG – German Federal Training Assistant Act
Students at Friedensau Adventist University can apply for a BAföG grant for their university studies. The BAföG grant helps students under 30 or 35, irrespective of the financial situation of their family, to be able to complete training according to their aptitudes and interests. Foreigners can receive training assistance as well as Germans. The concrete requirements for equal treatment depend on their respective status, e.g. citizenship of other EU states, permanent residence permit, recognition as a refugee. The web page provided by the Federal Ministry of Education and Research can be used as an initial guide: https://www.bafög.de/.
Responsible for advice and the granting of BAföG grants for students at Friedensau Adventist University is the Office for Training Assistance Johann-Gottlob-Nathusius-Ring 5 39106 Magdeburg
Tel.: 0049 (0)391 – 67 18352
Fax: 0049 (0)391 – 67 11513
E-mail: ">