FAQ  – Frequently asked questions
Join A State-Approved University
From a formal point of view, the degrees of a public and a private university are usually equivalent – both of them enjoy a full state recognition. Before a university is recognized by the state, it has to fulfill the same quality criteria as a public university. Since the Bologna Reform, which mostly stands for the introduction of bachelor and master study programmes, private and public universities pass through the same process of accreditation that leads to recognition.
Prerequsites are same as Public University
There are no big differences in the prerequisites between public and private universities. Students are only approved if they fulfill the same conditions of enrollment required by public universities (university entrance certification).
The prerequisite for a bachelor programme at our university is the General Higher Education Entrance Qualification (Abitur). There are no numerus clauses at our university. Students can possibly study at our university without the Abitur, if they pass an assessment test.
The prerequisite for a master programme is a university's degree with a grade not worse than 2.0 or 2.5 – depending on the study programme. In Saxony-Anhalt, students with a professional qualification have no access so far to a Master programme without a formal first university's degree.
How old must I be to attend Friedensau Adventist University?
There is no age limit for joining Friedensau.
Are degrees from Friedensau state recognized?
All degree/study programs offered by FAU are recognized both by AQAS (the German Accrediting Agency of the German Government) and the AAA (Adventist Accrediting Association of the General Conference of Seventh-day Adventists).
Can I do a Ph.D. / Doctorate at Friedensau?
FAU does not offer doctoral studies. However, with a state accredited degree after completion, you can pursue a doctoral study at other institutions worldwide. The sky is your limit.
Is there any job-opportunity at FAU?
Job opportunities are possible both on campus and in the nearby senior citizen's home.
Contact:
Are there public transportation?
Students from Friedensau Adventist University get semester tickets which give them access to the entire public transportation network in Jerichower Land, to Magdeburg and in the City of Magdeburg.
How do I call in case of ermergency or fire?
For emergency calls, dial:
110 for the Police
112 for Emergency/Fire
+49 (0) 361 / 730 730 for toxin emergency
+49 (0) 361 / 116 116 for blocking your credit card
How do I call Friedensau from home?
Calling from Home to Friedensau?
Landlines in Friedensau:
If you or your family and friends want to call a landline in Friedensau, use the following system: +49 3921 916 xxx
+ 49 = Country code for Germany
3921= Area code (Möckern)
916 = Local code (Friedensau)
xxx = the extension of the phone number you want to call in Friedensau.
Please make sure you know the last three digits of the office or person you want to call.
Mobile phone calls all over Germany:
If you or your family and friends want to call a mobile phone number in Germany, use the following system:
+49 xxxx xxxxxxx à simply add the mobile number after the country code of Germany.
Regarding cell phones, there are many providers in Germany: eg. Vodafone, T-Mobile, e-plus and O2. As per geographic position, we advise our students to use T-Mobile or Lebara as they are prepaid and work well around the Campus. Contact the Service of International Students, (SIS) [link to be added] in order to find help in buying a prepaid SIM card or a Phone.
Can I bring and use my electronic devices from home?
Germany's electrical system runs on 220 Volts. Please make sure that the electric devices you bring with you work on 220 Volts and don't melt or explode upon high-voltage contact.
Please be careful and check whether your electronic devices, especially the adapter, can run on 220 Volts. If not, we advise you to buy a universal adapter or a converter for your current adapter.
In Germany, the plugs and sockets look like this: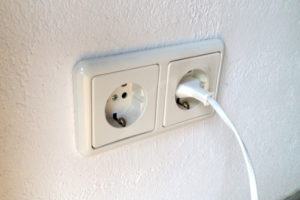 What to do if I want to see a doctor?
Students are informed about the procedure how to visit a doctor during the orientation meeting. Friedensau Adventist University has a group Service for International Students which provides international students with help regarding medical issues.
For more information you can join Facebook groups »SIS online«: https://www.facebook.com/groups/1410903415804820/
I still have a question that has not been answered?
Please, forward your question to the Admissions Office and we shall come back to you as soon as possible. Send us an email: 
How do I apply to FAU?
You can get more information about how to apply for admission into the MAISS program from here or contact the admissions office.
Is there any application deadline?
Yes. Please see our page on dates and deadlines.
How much time does it take to process my admission?
For visa students: you should start ca 5-6 months before the beginning of studies.
For non-visa students: 2 months before semester starts
How do I know that I have been admitted?
The Admissions office will send you a notice of admission as soon as your application accepted by the admission and financial committees. The admission letter (and other documents for the embassy) you will receive after the down payment and the deposit have been transferred to the University.
Whom should I contact about my admission process?
You should contact the Admissions Office through +49 (0) 3921 / 916 134 or
What do I do with the admission letter that I get from FAU?
You need this letter in order to apply for your student visa to Germany. Besides, you should travel with it since you will need them at the airport/port of entry or when applying for a visa extension.
First days in ­Friedensau­
Do I have to attend the orientation meeting?
Yes, it is mandatory and will be offered during the introduction week.
Do I need to do any legal formalities after arrival in Friedensau?
Yes! After entry immediately report to the registration authority and foreigners authority. See our page on Visa Procedures.
How do I get a german health insurance?
See our page on Health Insurance
How do I open a bank account, get a SIM-card and internet access?
After you have obtained your student visa, you can easily open a bank account with any bank in the nearby city of Burg. You can also buy a SIM card from any supermarket in the nearby cities, although sometimes having a little knowledge of German helps in these transactions. Students can contact SIS (Service for International Students) for assistance.
There is both wired and WIFI Internet connectivity on campus. The IT department can help you to get internet access.
Can I study part-time?
The MAISS study program is a full-time program comprising 4-semesters.
Which language will I use in my studies at FAU?
Depending on your program of study, you can use either German or English. Friedensau offers all its undergraduate programs in German. Graduate programs are also in German except the Master of Theological Studies and the Masters of Art in International Social Sciences which are fully taught in English.
What is the average enrollment at FAU?
There is no limit to the number of students the university admits at the moment. Nevertheless, the university always seeks to admit students based on established evaluation of all prospective students.
When will I have breaks and vacations?
Semester breaks:
middle of February to Middle of March
beginning of July to end of September
Christmas vacation
Are there internship opportunities?
Practical experience is an integral part of all study programmes in Friedensau. See more information on internships here>>
Do I need to speak german if I study in english?
German knowledge is not required for study programmes that are taught in English. However, we strongly encourage our applicants to learn some German.
Can I transfer credits from another university to FAU and vice versa?
Please contact the admissions office directly.
Is there any application fee?
Friedensau Adventist University does not charge an application fee.
Are there any financial support for international students?
Yes, there are a number financial supports for international students in Friedensau. Please visit our page on Scholarship/Funding Opportunities for more information.
Work outside of campus?
There are possibilities for students to find jobs outside Friedensau Campus. Students can find jobs in nearby towns and cities and even big cities like Berlin. It is however not the responsibility of the University to find jobs for students outside the campus.
Why do we have to pay the down payment and the deposit and when?
Down payments and deposits serve as a bond between the student and the university.
The down payment is credited in full to the student's tuition account and is only a partial payment for fees.
Deposits are held in a separate account and will be returned to a student upon leaving if all accounts are clear.
Down payment and deposit are paid before the start of the study programme.
When is the best time to join FAU?
The best time is the winter semester.
How do I reach Friedensau from Berlin?
FAU offers 2 appointments for a pickup service in Berlin (any airport or train station in Berlin only): normally on Friday and Sunday, one week before the semester starts. Students who chose other days for arrival will receive a detailed information how to reach Friedensau with the public transportation. Before you book your flight ticket you need to contact the admissions office.
When should I be at Friedensau?
Approx. 10 days before the official start of the semester. International students will be offered an introduction week (one week Mo- Fr before the semester starts) which is mandatory. During this week the admissions office helps international students with all legal formalities (such as visa application, residence registration, bank, etc. plus some other activities such as introduction meeting, intercultural training, etc).
Whom should I see first once I arrive at FAU?
As soon as you arrive Friedensau, the first person to get in touch with the Dean of Students, for your room and then see Irina Heinz, the Admissions Officer, for other student matters.
Do I have to live in the halls of residences or can I live off-campus
You are free to live either on campus or off campus.
Is there apartment for couples and/or families?
Yes, Friedensau provides apartments for married couples. You are advised to apply in advance since they are limited. For further information, contact Jens Schwenger:
Can I have a private room?
Our Residence halls provide both double and single rooms. However, single rooms are limited. The Dean of Students will take care of your application.
What furniture will I have in my room?
In your room, you will find the following furniture: a bed, a chair, a study desk, a mirror, cupboards, drawers, and bookshelves. In addition, you will also get one bed cover, blanket, pilot, and bed sheet.
How can I connect my computer in the halls of residence/apartment?
Each room in the residence hall has an internet connection and internet cable can be purchased from the university's cashier.
Can I use electrical equipment?
The power supply is 240 volts, 50 hertz (check). Appliances of lower than 2 kilowatts may be used. Power restrictions are to be respected.
Where can I get food on campus?
University Cafeteria
The university cafeteria offers three meals every day. The timetable is as follow:
Breakfast: 07:00-08:00
Lunch: 12:15-13:30
Supper: 17:30-18:45
This schedule changes slightly on weekends and breaks.
You can pay with cash or transponder.
More information about our Cafeteria? Click here
Laden Cafe
There is also a small cafe/shop on campus. Laden Cafe
Social and religious ­life­
Where do I find information on what is happening on campus?
Upcoming events are communicated to students through different ways:
their university e-mail addresses
their mailboxes
the notice boards
during »Meeting Under the Word«
during worship services
What are some of the social activities on campus?
These are public spaces on campus where you can meet friendly people, enjoy non-alcoholic drinks, eat snacks, play games,  listen to music, watch TV and movies, enjoy parties and more.
What sports can I play at Friedensau?
In the gymnasium, you can play badminton, volleyball, ping pong, handball, basketball and indoor soccer. In the park, you can play chess, tennis and table tennis. Access to the gymnasium is free of charge.
In case you are interested in bodybuilding, you can have access to the fitness studio after paying a small fee.
Please contact:  Ralf Spiegler ()
Is there worship service at FAU?
Spiritual life is very important to Friedensau community. Worship services are available and both students and personnel are encouraged to attend. Click here to learn more.
Should I belong to a church?
No, people with totally different world views are studying at Friedensau Adventist University: Christians, Buddhists, Muslims, atheists.
As an Adventist institution, we demand respect for other religions, ideologies, and cultures. We are convinced that faith, education, and lifestyle belong together and we strive to reflect a spirituality in the daily life of the university that is founded on the Gospel.
Library
FAU students enjoy doing research in a modern library which offers probably more than you can have time to read. The Library presently comprises of 330 periodicals as well as some 90,000 books, audiovisual material and approximately 15,000 sheet music items. There are about 330 periodicals stored in hard copy as well as 4,500 online periodicals that are accessible to students on campus. (http://search.epnet.com).
Searching the collection
Loans
For students and faculty members, all material is freely accessible and most is available for loan (except periodicals). Loans are free of charge.The loan period is four weeks. A maximum of two loan extensions per item is possible. In the event that deadlines are changed, notice will be posted. However, a fine is charged for any overdue book.
Inter-Library Loans
Items that are not in the library collection can be requested online from our partner libraries as an inter-library loan or document delivery at http://www.gbv.de.
Requests incur a cost of € 1.50 per item.
The library orders and items are delivered to an Ariel document delivery station, with online documents being sent online.
Internet
The library has computers with internet access and more than 100 CD-ROM databases for research purposes.
All PCs are connected to a printer allowing for the printing of search results. The digital library also contains online encyclopedias and standard works, in addition to full text documents.
For more information about the library, http://bibliothek.thh-friedensau.de
Children's Library
The library offers a special reading area for children.
Kindergarten
For students who have children, there is a kindergarten on campus. Children can be registered and they attend either 5 hours or 8 hours or 10 hours every day. The fees are € 110, € 135, and € 150/month, respectively. In addition, you have to pay € 1,70 per day for food and € 0,15 for beverage per day.The kindergarten functions through the whole year and it has only a three week holiday in summer.
Historical Archive
The Historical Archive of the Seventh-day Adventist Church in Europe is located at Friedensau Adventist University. This provides to students and faculty a broad range of historical information, including some data that you will hardly find anywhere else in the world.
Internet access
Every student at FAU enjoys a 24/7 internet access. Students living on campus have internet access from their rooms in their different residence halls. Besides, both on-campus and off-campus students have access to the internet through several computers located in the University library building.
Gymnasium
Faithful to its holistic approach to education, FAU provides a gymnasium for physical exercises. Access is free of charge for students. In addition, students can voluntarily and are encouraged to register in different sport clubs such as volleyball club, basketball club, etc.
Fitness studio
In case you are interested in body building, the fitness room is a place for you. You can have access to it provided that you pay a small fee. Please, contact Ralf Spiegler ()
Football field
For everyone who enjoys football, Friedensau offers a football field. You can sign up for use. There are possibilities to play outdoor and indoor football during summer and winter seasons respectively.
Sauna
The University has its own sauna facility which is easily accessible to all students.
Sport clubs
Students are free to join sport clubs such as basketball club, badminton, and volleyball club.
Student common rooms
These are public spaces on campus where you can meet friendly people, enjoy non-alcoholic drinks, eat snacks, play games,  listen to music, watch TV and movies, enjoy parties and more.
How is the weather in Germany?
Like most European countries, German is a green country. Although the weather changes frequently, the temperature is generally between 7º C and -10º C during winter and between 30º C and 13º C during the summer semester.
Some important websites?!
These are all very good sources to cross-check and gather additional information with regard to almost every aspect of living and studying in Germany (in English and other languages). We encourage you to check them out!