German as a ­Foreign Language­
German as a Foreign Language has been a part of Friedensau Adventist University (FAU) since 1993. Course participants with basic knowledge (at least GER A1 level) can prepare for their language exams for university qualification in three quarters. For prospective students from the European Union (EU) without previous knowledge of the German language, we offer a beginners' course. The aim of both courses is the TestDaF or telc C1 Hochschule certificate (in German as a Foreign Language, which entitles the holder to study at German universities). For the students in the advanced course, it is possible to reach the level for this examination after one year. Experience suggests that beginners need 1.5 to two years.
Since 2003, FAU has also been part of the ACA (Adventist Colleges Abroad) consortium. This program enables students from the USA to spend a year in Germany and study German as their major or minor.
The next online info event will take place on 14 June 2022, 6:00 pm (CET). Registration at: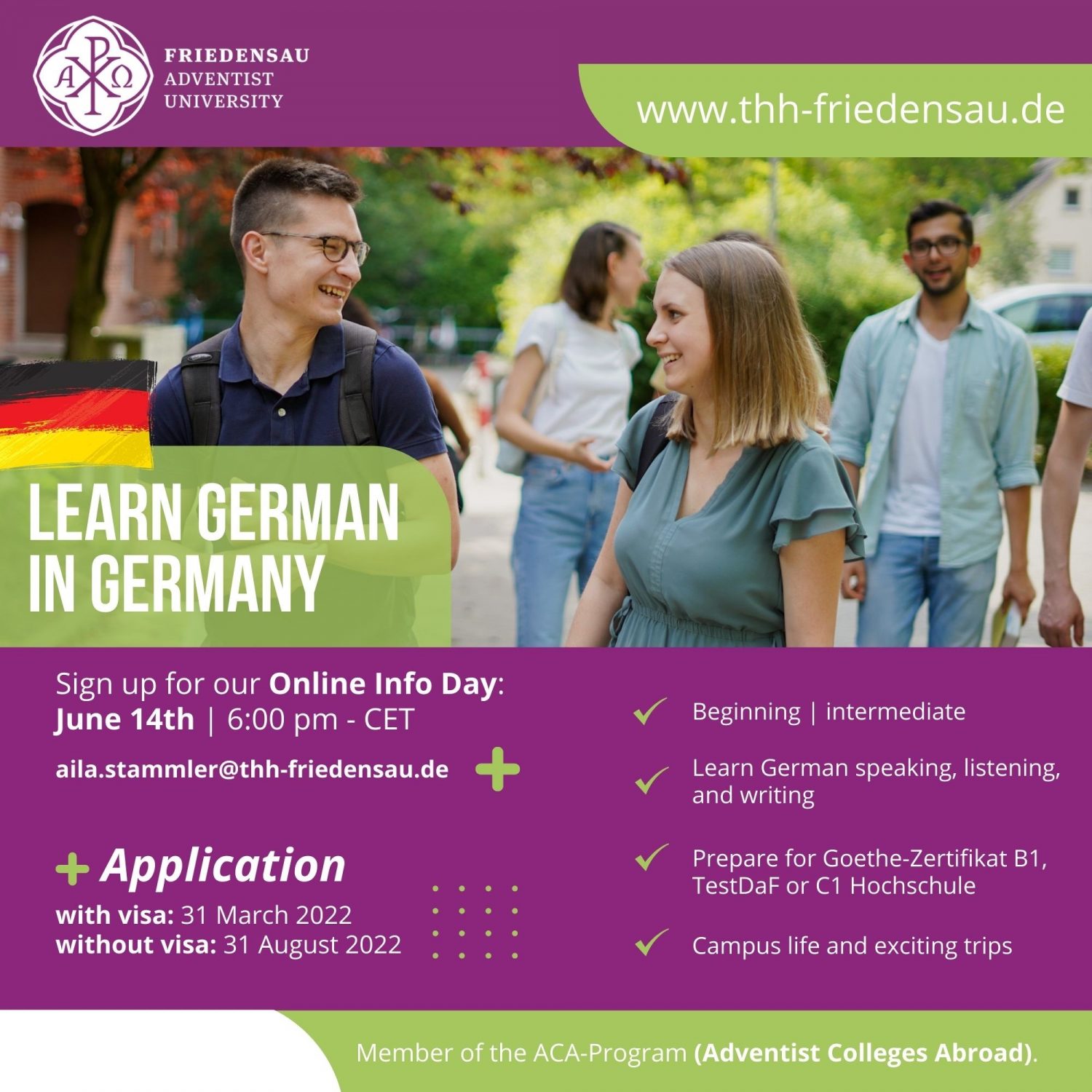 Course content
Campus life
Courses and Dates
Examinations
Costs
Partners and collaborations
Get in contact
Course ­content­
German course at level A1 to B2/C1 (20 units of teaching per week)
Phonetics
Geography / history
Literature
Conversation
Excursions
German in ­Germany­
Language and culture are inextricably linked. One important aspect of the language course is thus to bring students into contact with the culture and history of Germany and Europe by means of interesting excursions. A few examples from recent years:
Hamburg: the lovely North German port
Munich: the capital of Bavaria and close to the Alps
Dresden: the fascinating Baroque city of Augustus the Strong
Wittenberg: the town in which Luther lived, worked, and nailed the famous 95 theses to the door of the castle church
Magdeburg: the nearby capital of Saxony-Anhalt, home to Germany's oldest Gothic cathedral, over 800 years old.
Campus ­life­
FAU is a university which attracts not only young people from all over the world, but also many Germans, so it is easy to get to know Germans and speak German with them. But you will not be the only one getting to know a new country and a new culture. As our university is small (around 200 students), you can easily make friends here, and take part in activities such as sport, outings, spiritual and other events on campus.
Courses and ­dates­
This course extends over one academic year, in three quarters (of 9–10 weeks). Beginners can reach level B1 in the course of the third quarter. Advanced students can reach level B2/C1 (GER) and take the TestDaF or telc C1 Hochschule examination.
Academic calendar for German course 2021/2022
| | |
| --- | --- |
| Arrival | Sep 20, 2021 |
| Tests & Registration | Sep 21 |
| Classes begin | Sep 22 |
| Fall vacation | Oct 27–31, 2021 |
| First quarter ends | Dec 16, 2021 |
| Christmas vacation | Dec 18, 2021–Jan 09, 2022 |
| Second quarter begins | Jan 10, 2022 |
| Second term ends | Mar 16, 2022 |
| Winter vacation | Mar 17–Apr 03, 2022 |
| Third quarter begins | Apr 04 |
| Easter vacation | April 15–19, public holiday May 1 |
| Government tests B1 or B2 | TBA |
| TestDaF | C1 | June or July| TBA |
| Closing services | Jun 11 |
| Departure | Jun 12, or later! |
Examinations
The intensive courses finish with the external examinations Goethe-Zertifikat B1 or the TestDaF/telc C1 Hochschule. The certificates TestDaF and C1 Hochschule qualifie foreign students to apply to German universities.
* I have read the Privacy Policy note. I agree that my details and data will be collected and stored electronically to answer my request.