­Cafeteria­
To provide a well- balanced diet for students, employees and guest, our canteen has the aim to serve around 360 days a year breakfast, lunch and dinner. A rich salat buffet, diverse vegetarian meals produced from high-quality, preferred fresh food and a cosy dining room are features of our canteen. Incompatibilities are no problem and will be considered.
The costs of breakfast and dinner are based on the extend of your daily consumption. Lunch costs between 2,90€ and 5,00€ – depends on the menu. A bowl of salad is 1,20€; a plate of salad (small) 2,50€ and a big plate of salad 4,00€. Students get 15% off the given prices. If you reach the minimum sale of 100€ in 28 days, you get a credit in the amount of 10€. The payment happens without cash via transponder which is connected to a credit account. It can be loaded by the students directly at the canteen checkout or at the administration counter. For a grown-up you can expect an amount of 200€ in one month.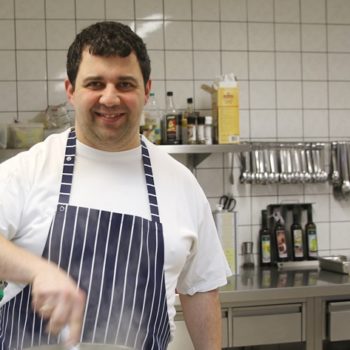 Alexander Helmeke

Head | Cafeteria
Telephone: +49 (0) 3921 916-178
Fax: +49 (0) 3921 916-120
Email:
An der Ihle 19
39291 Möckern-Friedensau
Opening Hours
Breakfast
Monday –Sunday 07.30-09.00 am
Lunch
Monday - Friday 12.15 – 13.30 p.m.
Weekend and Bank Holidays 12.15 - 13.15 pm
Supper
Monday - Sunday 6.00 – 6.30 p.m.